Treyl DuraLight Pro Trekking Poles
Regular price
$139.97 USD
Regular price
Sale price
$139.97 USD
Unit price
per
Sale
Sold out
Lightweight Carbon Upper and Middle Shaft
High Grade Aerospace 7075 Aluminum Lower Shaft
Comfort Grip Cork + Extended EVA Handles
Aluminum QuickLock System
Adjustable Straps

MicroThread Tungsten Carbide

 Tip

Adjustable from 25.6" to 54.3"

Weight: 7.8 ounces per pole
SPECS

| | |
| --- | --- |
| Weight | 7.8 ounces (per pole) |
| Handle | Cork |
| Extension Grip | Yes (ergonomic foam) |
| Upper Shaft Material | 100% 3K Carbon Fiber |
| Middle Shaft Material | 100% 3K Carbon Fiber |
| Lower Shaft Material | Aerospace 7075 Aluminum |
| Locks | Aluminum QuickLock |
| Snow Basket | Included |
| Mud Basket | Included |
| Tips | MicroThread Tungsten Carbide |
| Adjustable Length | 25.6" - 54.3" |
| Strap |  Included |
Share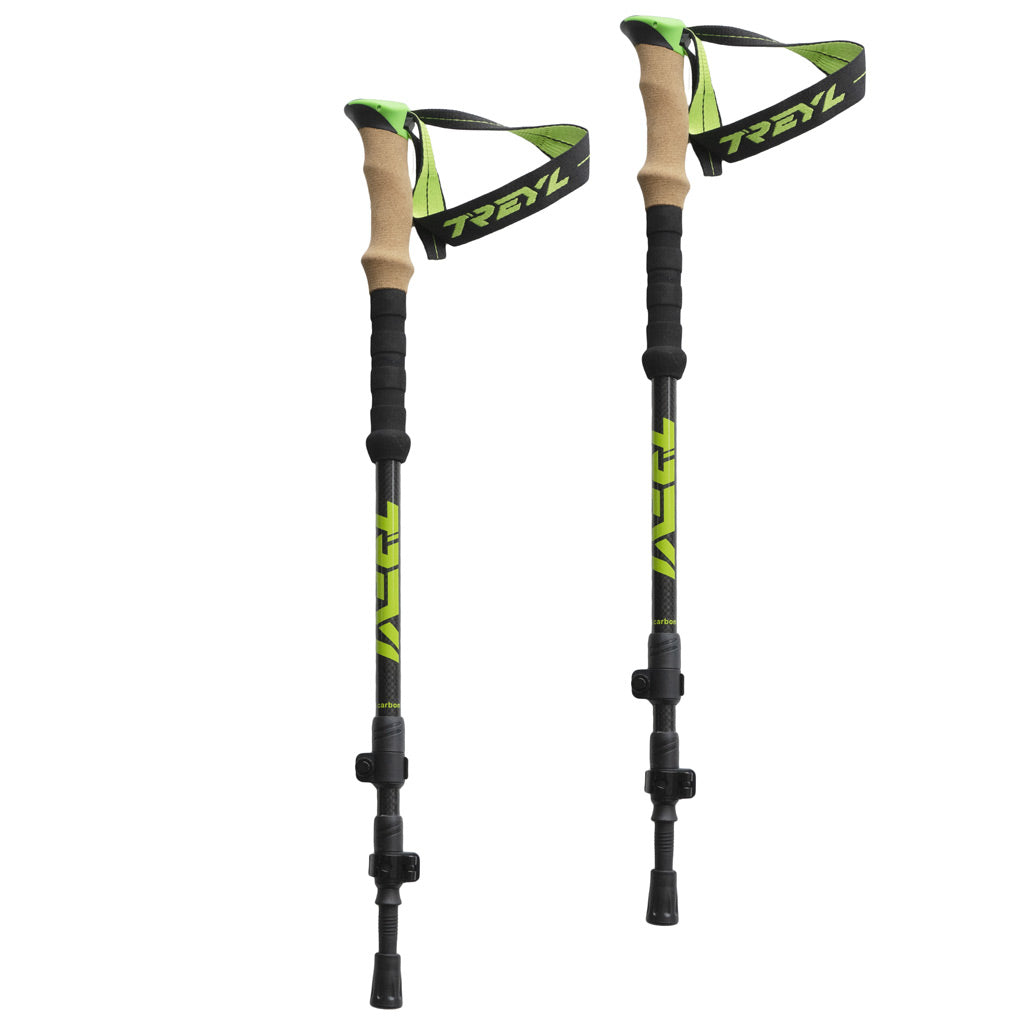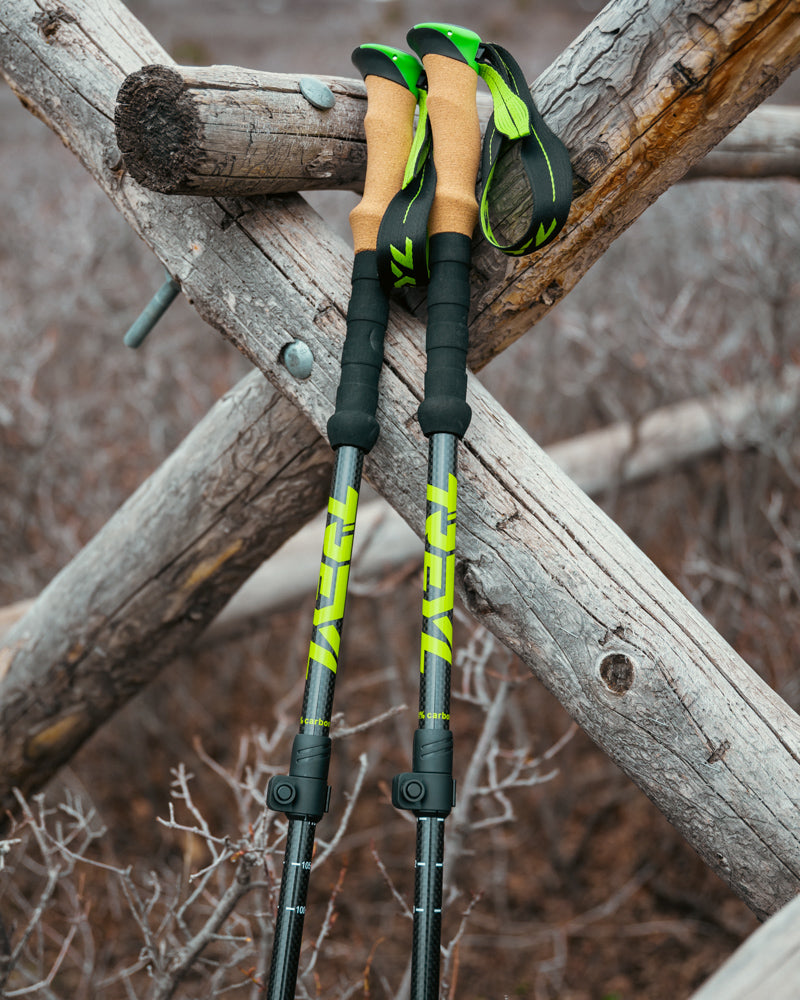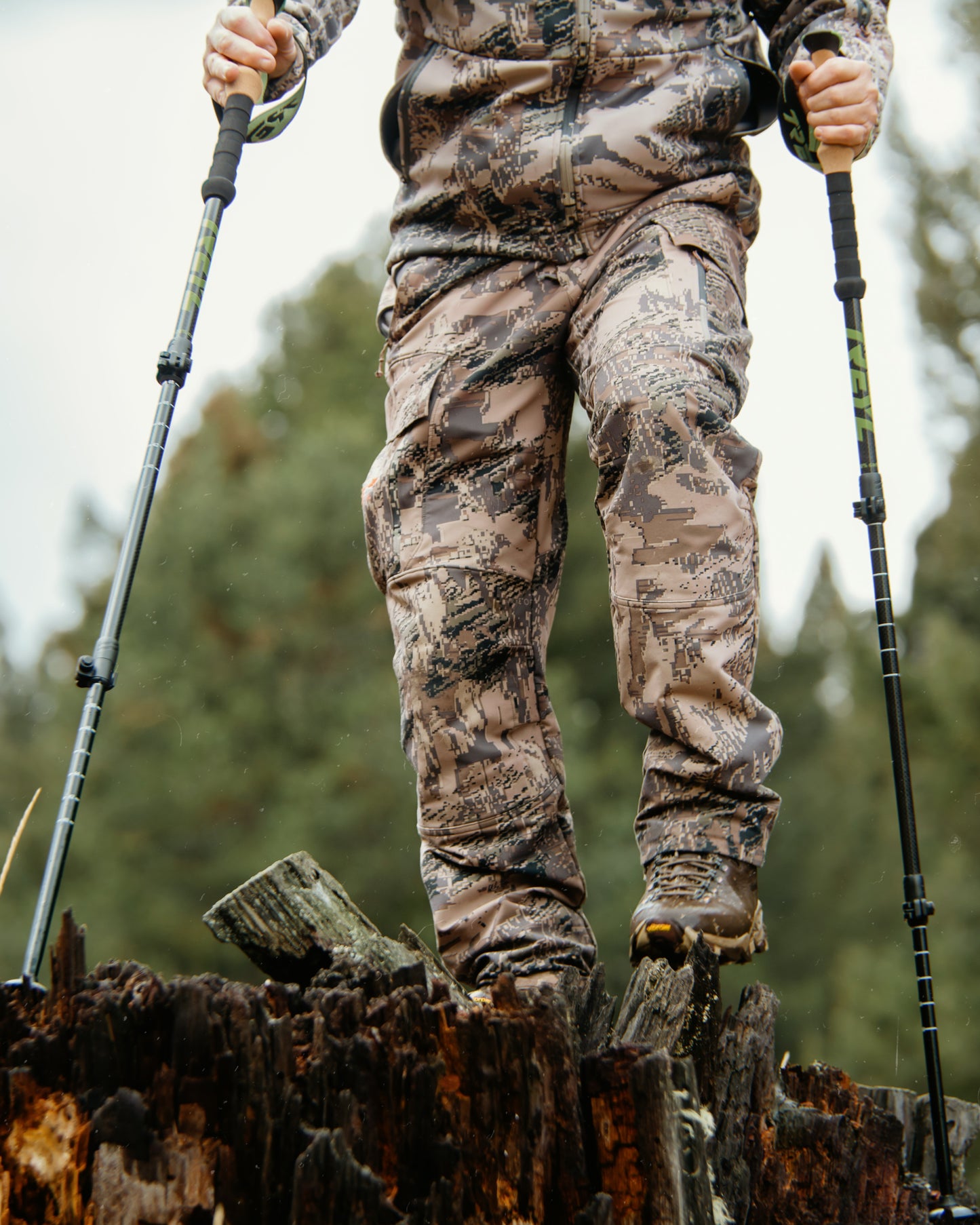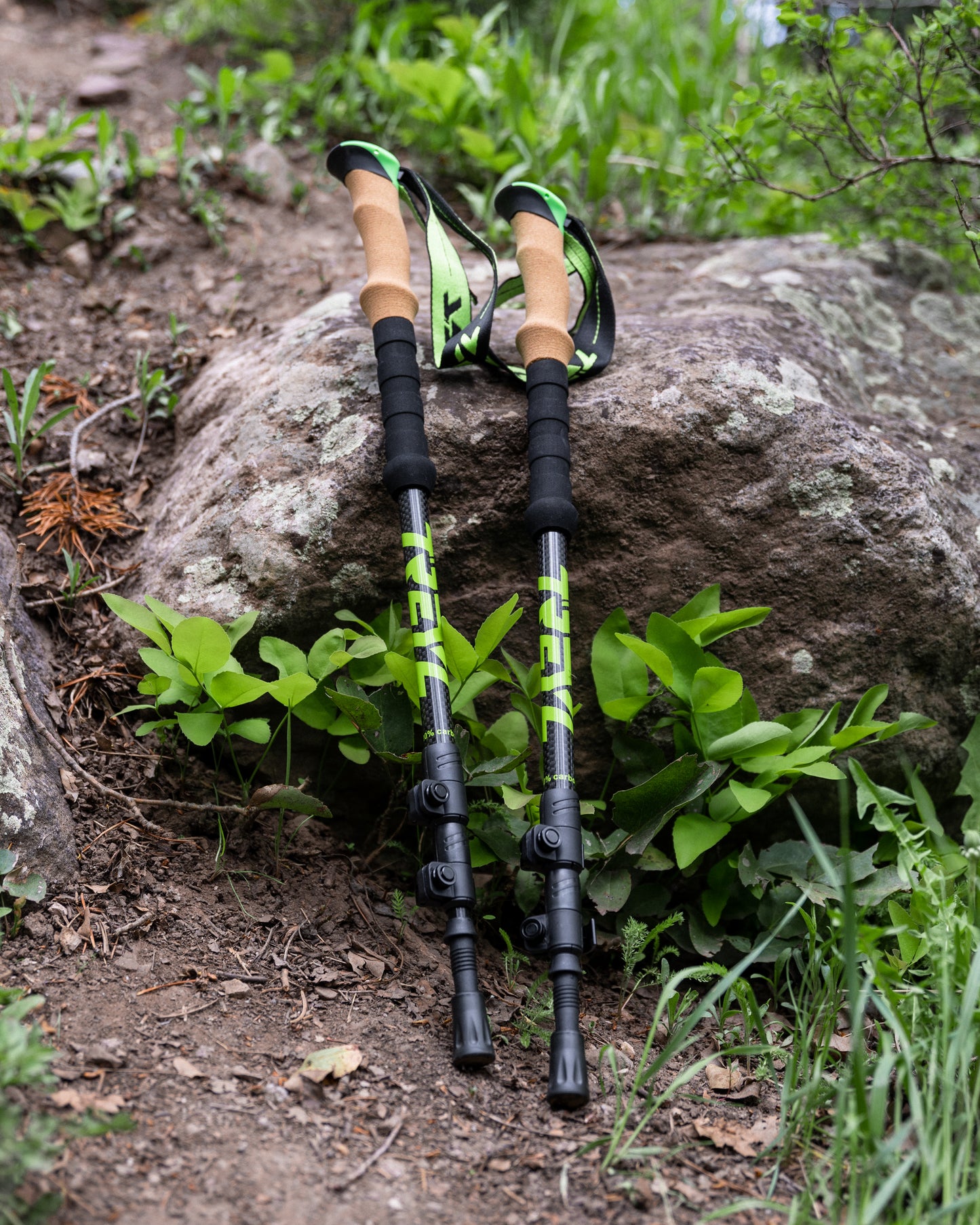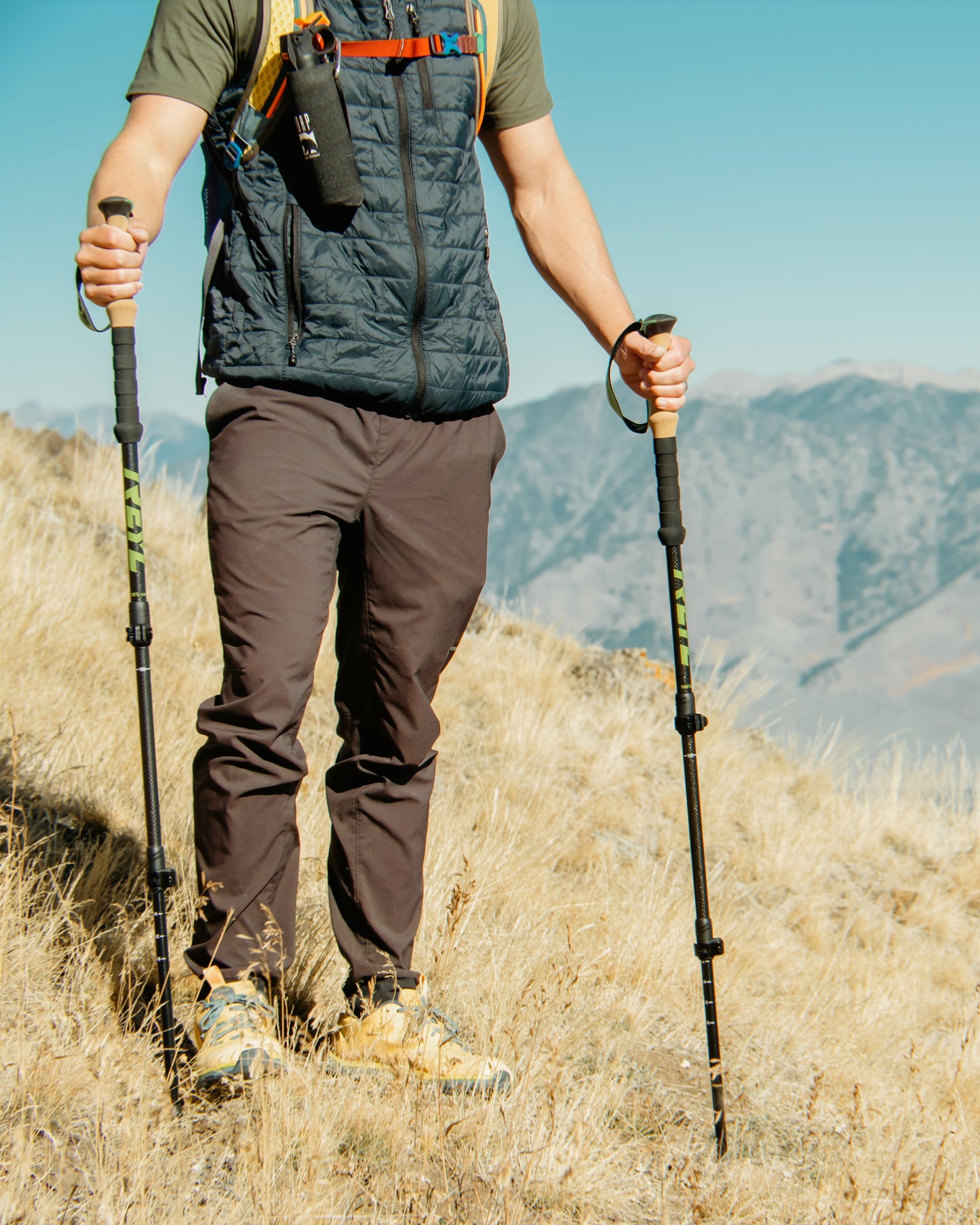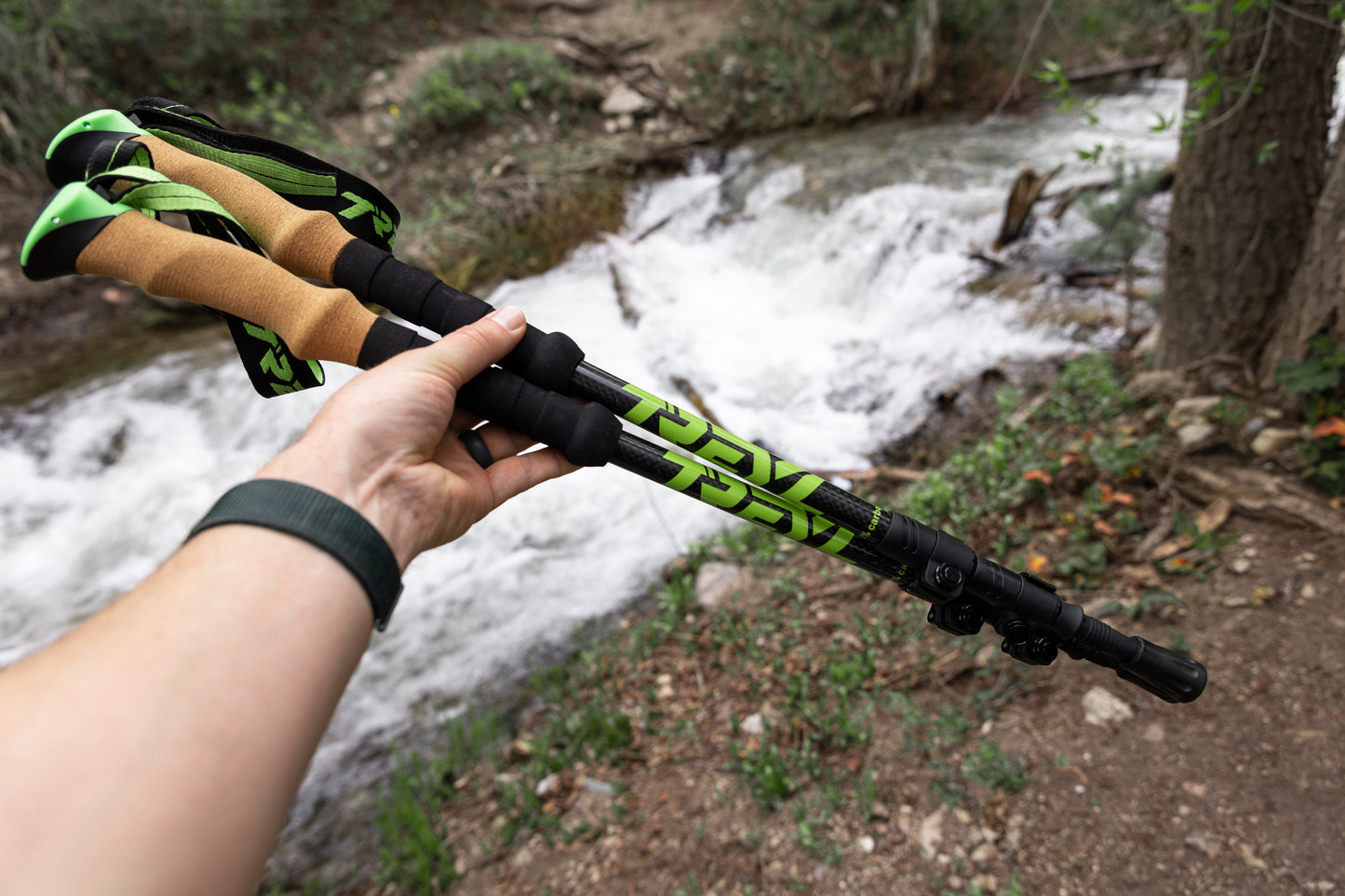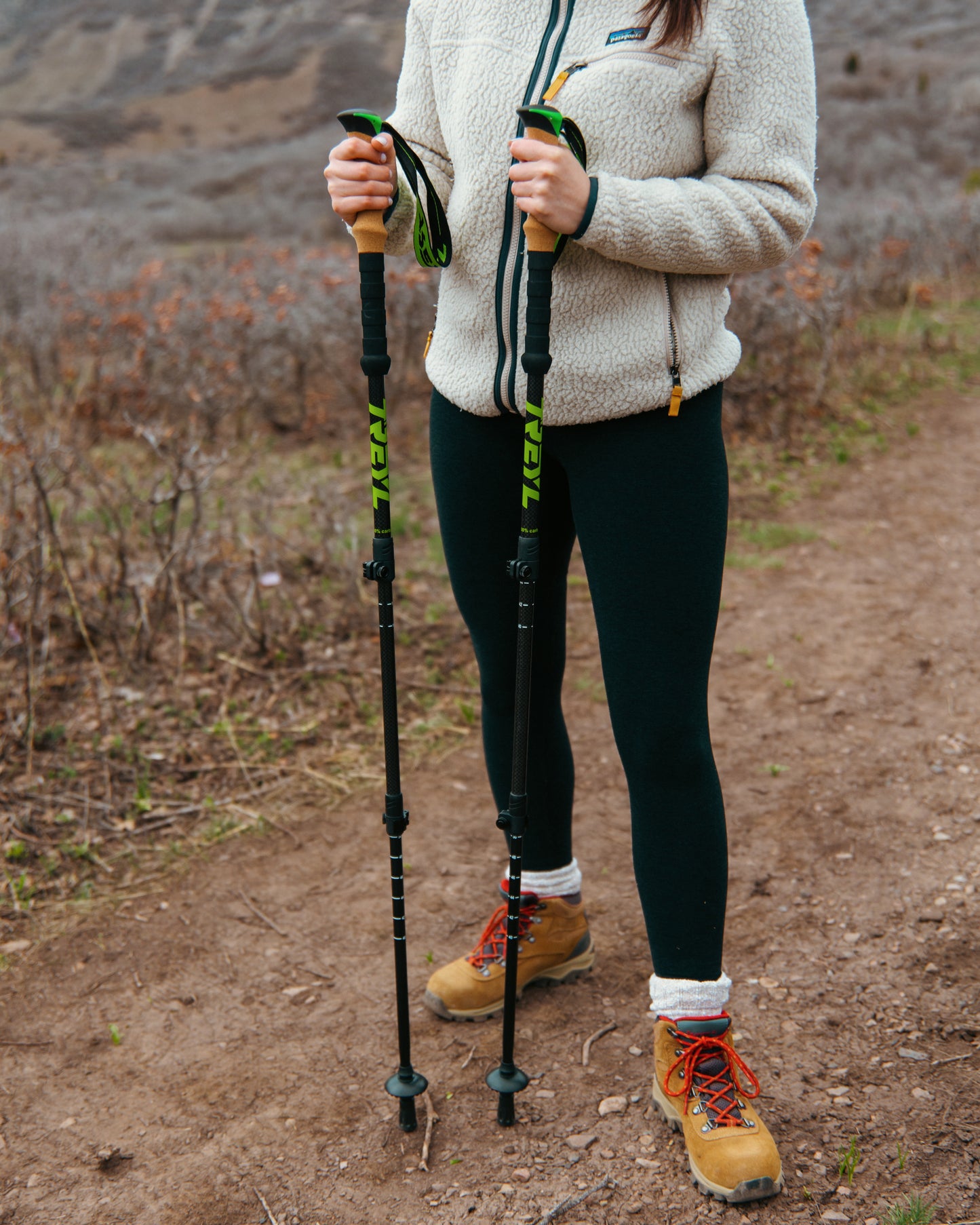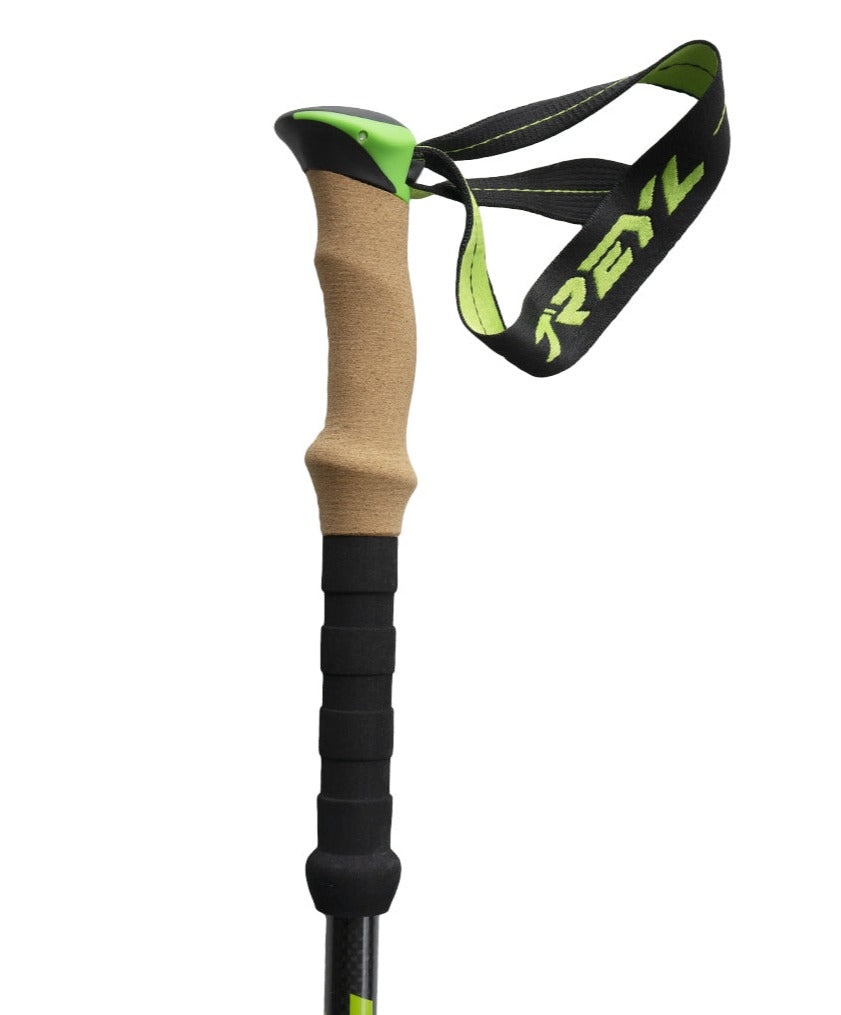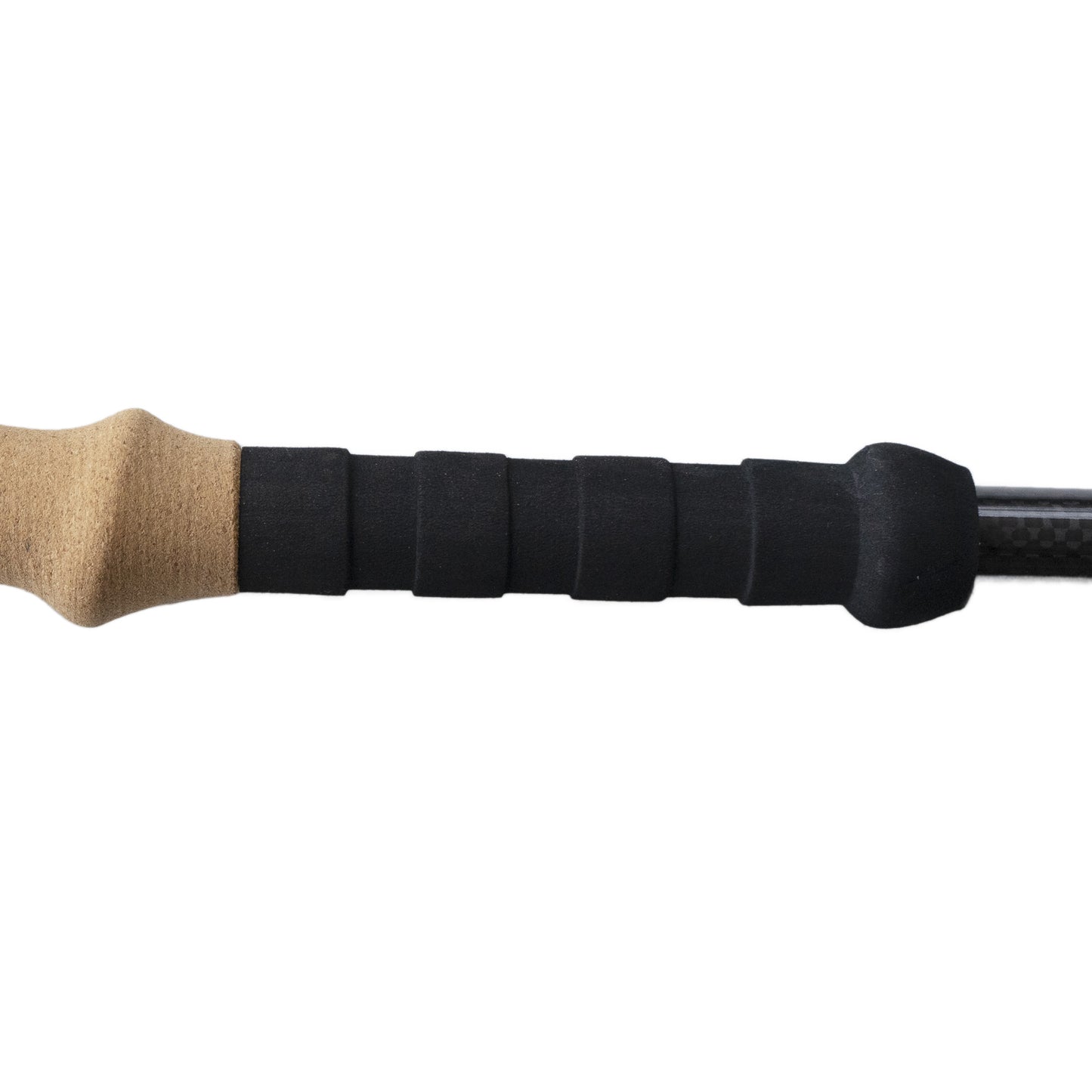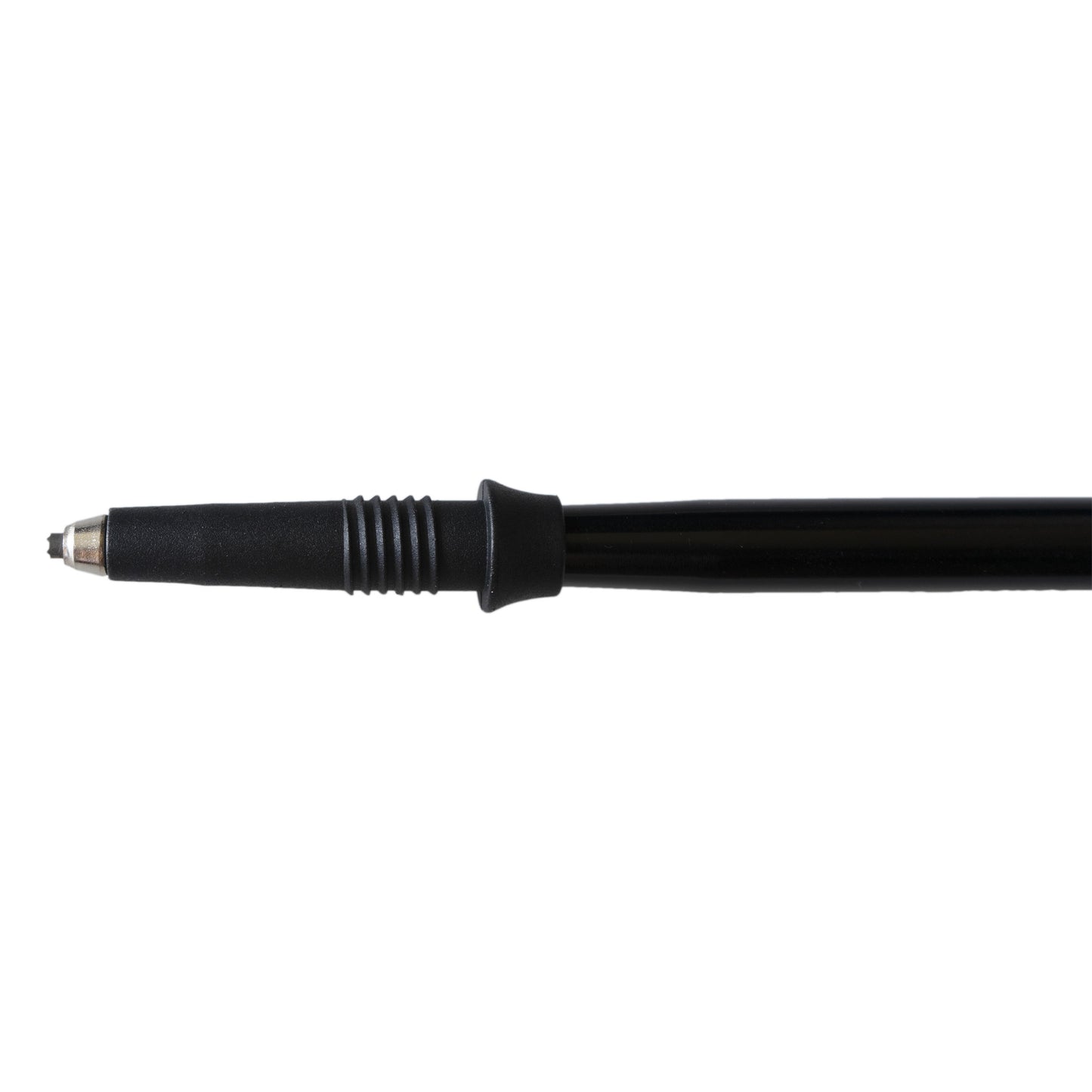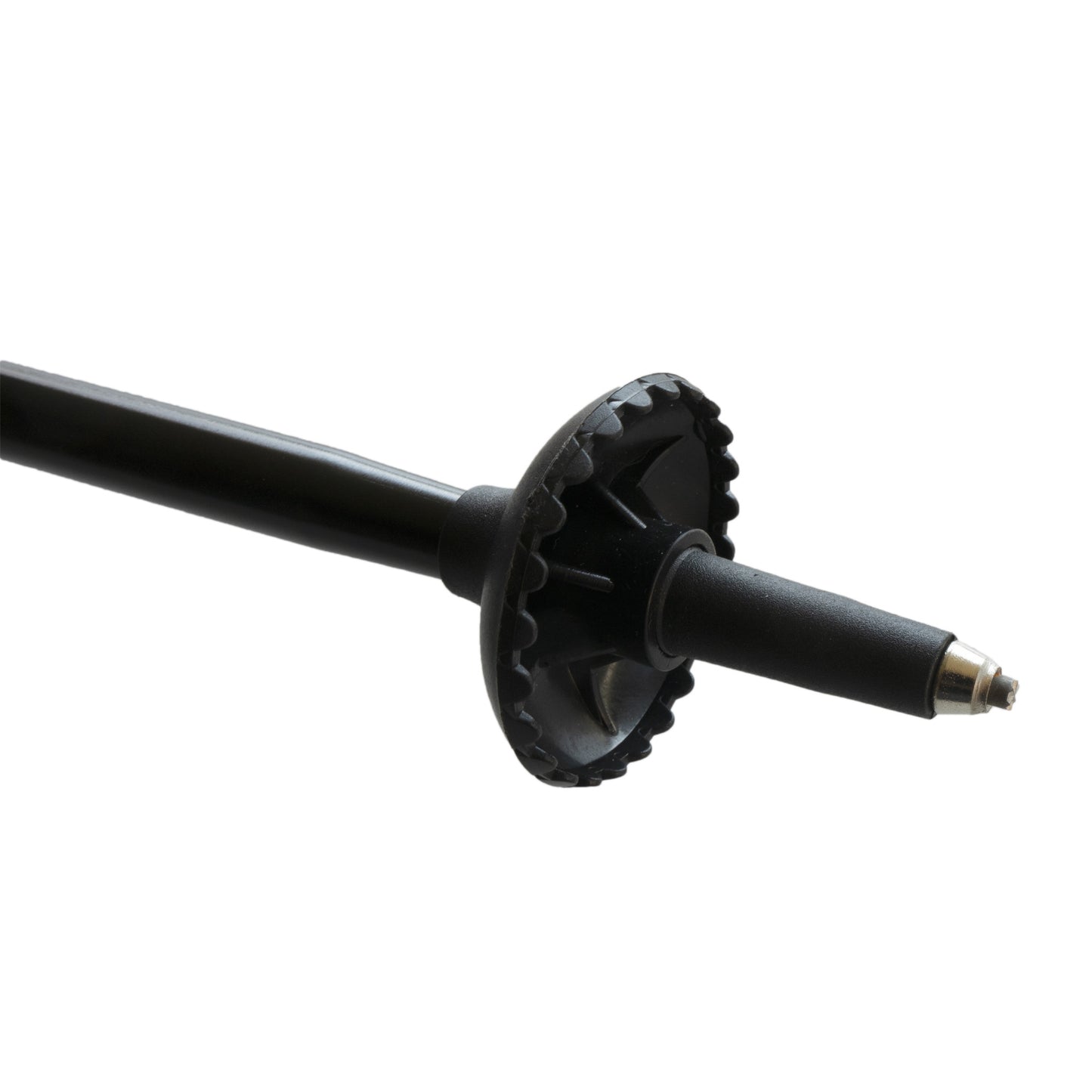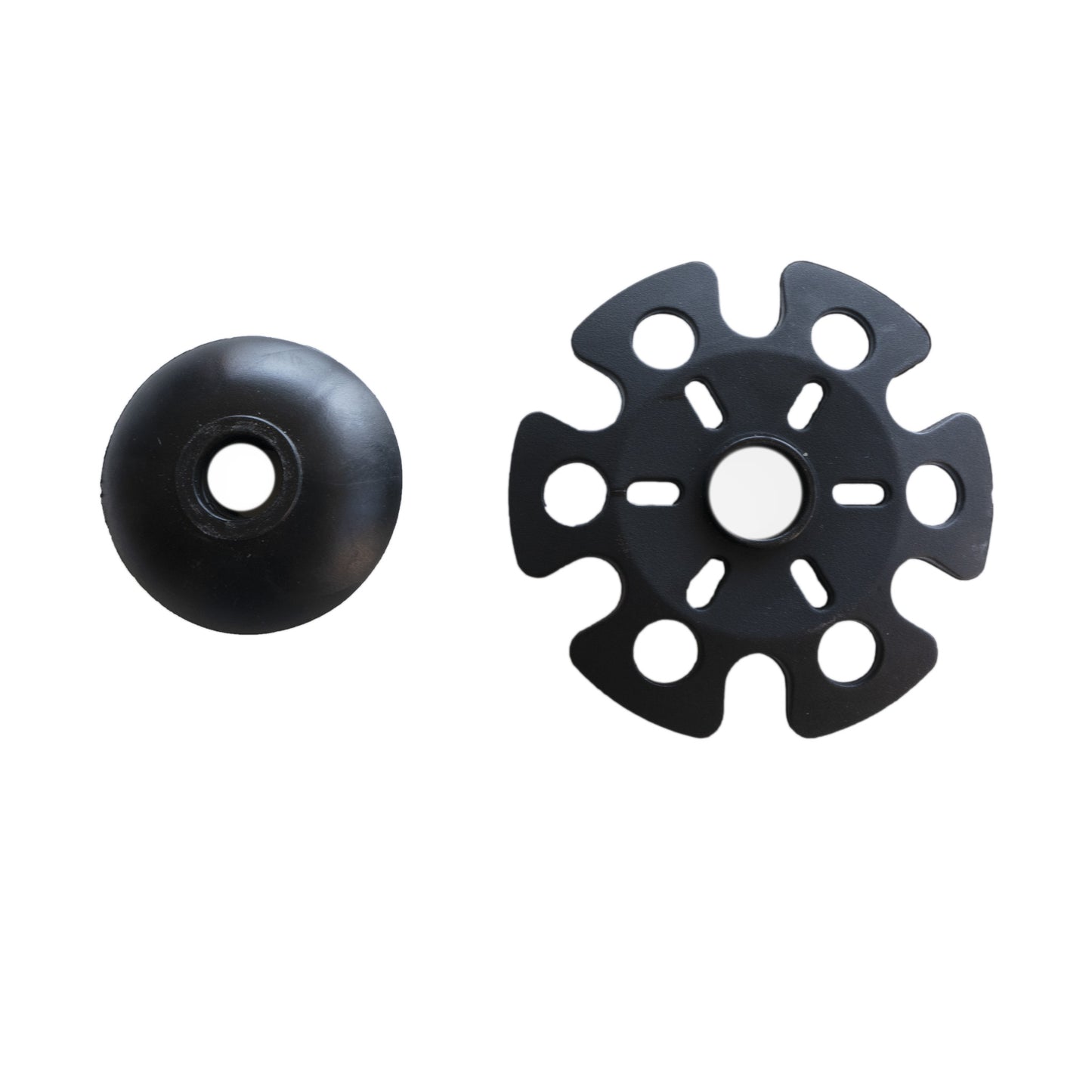 THE LIGHTWEIGHT DURABLE TREKKING POLE, PERFECTED.
UPPER SHAFT

The upper shaft is constructed of 100% 3K carbon fiber that's durable yet lightweight.

MIDDLE SHAFT

The middle shaft is also constructed of 100% 3K Carbon Fiber, allowing you to shed even more weight.

LOWER SHAFT

The lower shaft is constructed of rugged aerospace 7075 aluminum grade material. It's ready to handle anything the trail might bring.
EXPERIENCE MORE.
Whether you're hiking up steep inclines or crossing a rocky riverbed, these poles provide stability and support, reducing strain on your knees and improving your overall balance. With the Treyl DuraLight Pro trekking poles in your hands, you'll feel confident tackling any mountain trail and explore more of the great outdoors.
Benefits of Using Trekking Poles
Knee Savers

A study published in the Journal of Sports Medicine in 2000 found that using trekking poles significantly reduced the compressive forces on the knee joints during downhill hiking. Indicating that trekking poles can help protect the knees from excessive stress and reduce the risk of knee-related injuries.

Endurance Enhancers

A research article published in the Journal of Strength and Conditioning Research in 2011 demonstrated that trekking poles can enhance walking economy, reducing energy expenditure during hiking. This means that using trekking poles can help hikers conserve energy and increase their endurance on longer hikes.

Load Distributers

Another study published in the Scandinavian Journal of Medicine and Science in Sports in 2014 examined the effects of trekking pole use on muscle activity and perceived exertion during hiking. The findings suggested that trekking poles can help distribute the workload between the upper and lower body, resulting in reduced muscle fatigue and perceived exertion.
Worked good but wore out quickly
Worked great and are very light but the carbides fell off 3 days in to a 14 day expedition and without them the ends wore down by the end of the trip. I'm pretty rough on equipment though
These poles are incredible!
These poles are the best I've ever owned. Very lightweight, and comfortable in the hand. They came in a cool box and with all the accesories I'd ever need. I'm very happy with my purchase and looking forward to the many adventures I'll have with these things.
Get out and hike
These poles did not disappoint… lightweight but very durable…
3 Day Trip through Yellowstone
Recently used these poles for a 3 day backpacking trip through Bechler Meadows in Yellowstone. I can't imagine doing this trip without these poles. I'm a bigger guy and fording multiple rivers with water up to my waist I always felt in control with these. These poles stacked up and held up better than any other previous poles I've ever used. Super light weight, sturdy, and comfortable. You won't regret these, best hiking poles around.
Best hiking poles on the market!
These Treyl poles saved me on my last backpacking trip in Grand Teton National Park! Super light weight, breathable cork handles, and durable. I put these bad boys to the test scaling boulders and crossing rivers with a 50 lbs pack and would have had an awful experience without them. Highly recommend Treyl trekking poles for your next adventure.
TREYL ON.
TREYL is on a mission to increase and magnify outdoor recreation through deliberate product and content creation to motivate, inspire, and enhance your passion for the outdoors.
SPEC SHEET
| | |
| --- | --- |
| Weight | 7.8 ounces (per pole) |
| Handle | Cork |
| Extension Grip | Yes (ergonomic foam) |
| Upper Shaft Material | 100% 3K Carbon Fiber |
| Middle Shaft Material | 100% 3K Carbon Fiber |
| Lower Shaft Material | Aerospace 7075 Aluminum |
| Locks | Aluminum QuickLock |
| Snow Basket | Included |
| Mud Basket | Included |
| Tips | MicroThread Tungsten Carbide |
| Adjustable Length | 25.6" - 54.3" |
| Strap |  Included |